Sponsor Recognition
All sponsors are entitled to a charitable receipt. Sponsors of $200 or more will be recognized on a plaque on the Donor Wall at the Exhibit Centre.  Sponsors will be noted as bronze, silver, gold or platinum supporters, depending on the level of support as follows:
Bronze—donations of at least $200
Silver—donations of at least $1,000
Gold—donations of at least $3,000
Platinum—donations of at least $5,000.
Historic Sherbrooke Village Development Society (HSVDS) Has Built a Wheelchair Accessible Park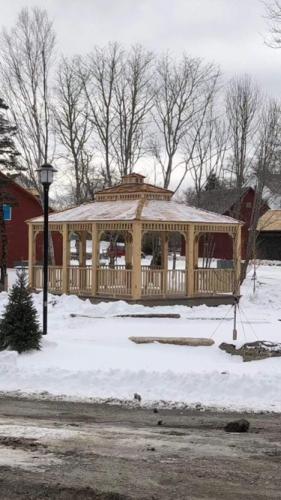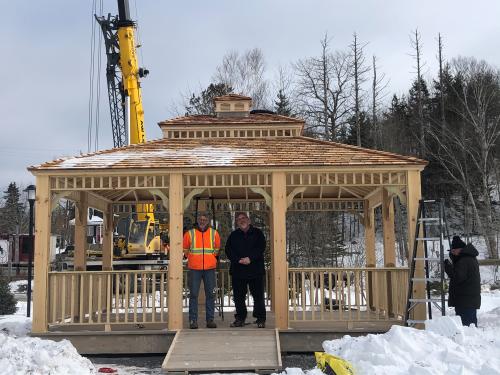 Description of Organization:
SHERBROOKE VILLAGE NEW ACCESSIBLE COMMUNITY PARK
There is a new wheelchair accessible park in Sherbrooke Village that began as an opportunity to beautify the entrance to the historic Village as well as develop a comfort zone for those with disabilities. It just happened to fit into the new Municipal Streetscape plan for Sherbrooke.
This from Sherbrooke Village Executive Director, Stephen Flemming, "Many, many thanks to Dana O'Connell and the crew for building this wonderful tribute to those protecting us from Covid-19, ourselves included (as you achieved with the mirror). It is a perfect contribution to the community park concept and has not gone un-noticed in the community." 
The Historic Sherbrooke Village Development Society (HSVDS) had taken on the park project from the beginning with the full support of Sherbrooke Village Museum, to design and build an accessible Community Park within the Sherbrooke Village museum boundaries. The park was to be adjacent to the Indigenous Art Centre and include an Indigenous garden area.
Most of the design work was the vision of Dana O'Connell and assistant, Kathleen Pascoe. Phase one saw the excavation of the park area and planning of layout in 2019 with support from St. Mary's Municipality.
Many thanks to Nova Scotia's "Community ACCESS-Ability Program" for supporting the project through phase two of the project, laying pathways, installing power and water. Funding from a Stimulus package awarded to Sherbrooke Village museum by the Government of Nova Scotia and our MLA and Cabinet Minister, Lloyd Hines, allowed for the completion of phase three, consisting of the completion of pathways, reading areas, lighting, benches and picnic tables. A gazebo for teaching and music events will be installed this week. Flower beds will be planted in the spring.
This upgrade makes for a much more appealing entrance to the Indigenous Art Centre, and our community museum. "I expected completion of the park project would take upwards of five years, but here we are ready to see the final touches added by summer 2021. I am so grateful for all of the support we have received", says HSVDS board member and park project lead Dana O'Connell.
Description of Project Plan:
A ¾ acre lot along Court Street adjacent to the Exhibit/Indigenous Art Centre is being developed as a wheelchair accessible community park. This project is in tune with Sherbrooke Village's mandate to support persons with disabilities and will also serve to support Sherbrooke, the many communities of Guysborough County and visitors to our area.
The HSVDS is taking the lead to create a wheelchair accessible park, plants for smell and feel. A wheelchair accessible water fountain (funding provided by St. Mary's Municipality), picnic tables, benches, a free library and outdoor lighting. The paths will continue into the Sherbrooke Village Indigenous Art Centre.  Visitors will have free admission to the Centre where accessible washrooms will be located. The NS Tourism VIC is also located here.
High-Crest Nursing Home is within 400 feet from the proposed park entrance.  Our senior's apartment complex is less than ½ kilometer away. The Park is within 100 feet of the downtown core.
The outcome of the park project will be an outdoor area that will bring a sense of pride, wellbeing and a feeling of inclusion for the whole community including persons with disabilities. In