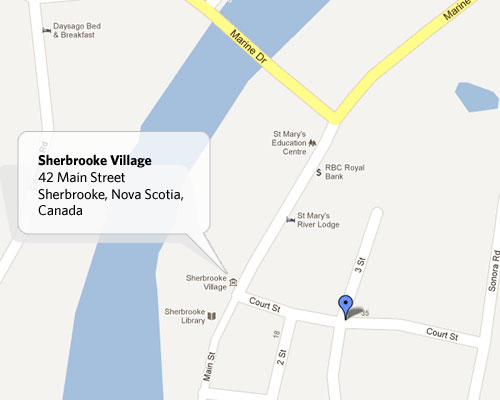 To drive to Sherbrooke Village from Halifax, take Highway 107 to Musquodoboit Harbour, then follow Highway 7 along the scenic Eastern Shore's Marine Drive to Sherbrooke. Once you arrive in Sherbrooke, follow the Key signs to Sherbrooke Village.
If you are travelling east on the Trans-Canada Highway towards Cape Breton, you can turn off the Trans-Canada at Exit 26 (Thorburn) and drive down Route 347 to Aspen, turn right on Route 7 and continue on to Sherbrooke. You can also turn right onto Route 7 at Antigonish, at Exit 32.
If you are travelling west on the Trans-Canada Highway from Cape Breton, the most direct route to Sherbrooke Village is to take Exit 32 at Antigonish, following Route 7 to Sherbrooke Village. You can also take Route 344 from Mulgrave to Guysborough, travel towards Canso and continue on the Marine Drive Route 36 along the coast westward to Sherbrooke.
See our Google Map for further directions.
Latitude and Longitude
45° 08.459'N       061° 59.039'W
Site-map