Saturday, August 12, 2023

GET YOUR PRINTABLE CARDBOARD BOAT RULES & REGULATIONS HERE (PDF 2.64MB)

ST. MARY'S RIVER COMMUNITY FAIR– We're celebrating outdoor FUN for the whole family, taking place along the St. Mary's River at Sherbrooke Village!

COMMUNITY FAIR and cash BBQ will be from 11:00 AM - 2:00 PM in Centrefield. Try your hand at the variety of games and crafts, purchase hot dogs and cans of soda, and learn more about all the parts of your community which have come together to make this event possible! Join the noise maker parade leading to the boat ramp in time for the Cardboard boat race. Plan to spend your day with us and be sure to build a seaworthy cardboard boat.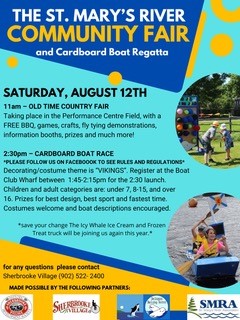 CARDBOARD BOAT REGATTA - Register at the Boat Club Wharf for the Cardboard Boat Regatta from 1:45 pm to 2:30 pm for the 2:30 pm launch. There will be three groups. First will be a mini heat for ages 7 and younger who will bring a mini unmanned cardboard boat to race. Next, the adolescent heat for ages 8-15 where the participants will bring a full sized cardboard boat to race in. Finally, the adults' heat for those 16 years of age and older. The theme this year is Pirates, so get ready to walk the plank! Costumes and boat descriptions encouraged.