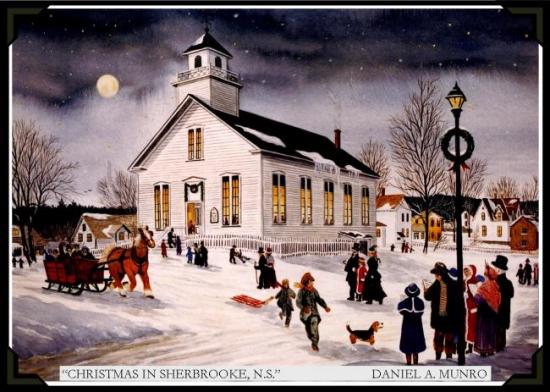 Sherbrooke Village Old Fashioned Christmas 2021
Please Join us Friday, Nov. 26th to Sunday, Nov. 28th for this year's SHERBROOKE VILLAGE OLD FASHIONED CHRISTMAS.  Celebrating 25 years with free general admission and many outdoor activities. The event will feature a 50 foot, lit Christmas tree, fireworks, Santa, visit to "Whoville", Dave Carroll concert, variety concert, breakfasts, a stroll down Christmas Cane Lane, craft sales, Ecumenical Service, Victorian & children's teas, games/activities with prizes, an Ultimate Santa Race, Youth Dance, and skating.  There will be a Parade of Lights and much more. There is something for everyone this holiday season so visit us to get into the holiday spirit at Sherbrooke Village! Free parking and free admission to Sherbrooke Village site.
Located 45 minutes south of Antigonish on Highway #7. For more information follow our webpage or Facebook page. Call us at 1-888-743-7845."
Anyone over 12 years of age Must show photo ID and Proof of Vaccination on entry to the site
2021 Sherbrooke Village Old Fashioned Christmas Schedule
Download your PRINTABLE SCHEDULE HERE (PDF 728 MB)
*Schedule subject to change
FREE ADMISSION TO THE SITE - Must Show Proof of Vaccination and Photo ID
Tree will be lit prior to activities. Mascots will be throughout the site, so we invite you to take your own photo with Frosty, Rudolph, Simon, the Grinch or Cindy Lou Who. Visit Whoville and take a stroll down Christmas Cane Lane. Lion's Hall will be offering FREE Hot Chocolate beside the Gift Shop. Sausages, apple cider and treats will be available for purchase in front of the Tea Room.