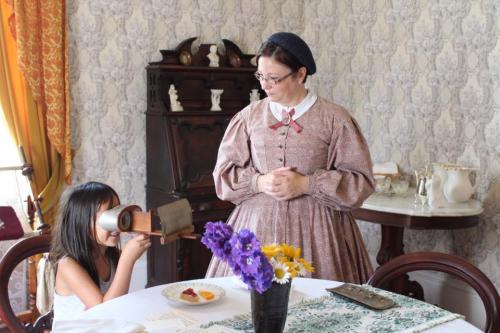 Sherbrooke Village 2022 Activities
Sherbrooke Village will be following all Covid 19 Provincial Restrictions
NOTE: ACTIVITIES, DATES & TIMES ARE SUBJECT TO CHANGE
For more information or to register for programs call us at 1-888-743-7845
June 16 to September 17, Open Thursday to Monday 9:30 am to 5:00 pm
Closed Tuesdays and Wednesdays
SELF-GUIDED TOURS
Explore our incredible living museum site where costumed interpreters bring history to life in 25 original heritage buildings across 53 acres. Plan 2 hours or more to experience the full scope of Sherbrooke Village.
PREARRANGED SPECIAL GUIDED TOURS
Pre-register for this unique experience with your own guide provided to take you through the highlights of a personalized tour of Sherbrooke Village. Add-ons available include an ambrotype photo and period dress-up opportunities. Call 1-888-743-7845 (Extra charges apply)
COURTHOUSE CONCERT SERIES
Concerts will be held on Thursday evenings from July 14 to September 1. Final concert will be the Sherbrooke Show & Shine concert on Saturday 10 September 10 offering music from a variety of genres. All concerts start at 7:00 pm, tickets $10 at the door. Concerts will be held at a variety of venues throughout Sherbrooke Village; locations will be listed or announced prior to each concert.
Courthouse Concert Series (PDF 118KB)
TREASURE HUNTS
Search for the museum's hidden history treasures as you tour the site. Sherbrooke Village Treasure Hunts add an element of adventure and interaction to your tour of the museum for children and families alike. Those who successfully complete their quest will be rewarded with a bounty from the treasure chest! Register at the Visitor Reception Centre to take part. Stop at Village Treasures & Gifts or the Visitor Reception Centre on your way out to pick up your bounty. Free Activity!
2022 PREMIER EXPERIENCES:
https://sherbrookevillage.novascotia.ca/what-see-do/experiences
ARTISAN FOR A DAY - Interested in learning a traditional skill from yesteryear? Take part in a one-day workshop focusing on an original heritage skill with one of our artisan craftspeople in a fun and educational atmosphere. Learn the fine art of Wood Turning or Print Pressing from our talented professionals. Produce your very own creation to take home with you.
Workshops take place on Thursdays, Fridays, and Saturdays from 10 am - 4 pm. Cost is $150 + HST per person (materials included).
Class sizes are limited to four participants per day and ages range from 16 to 90. Call now and get your Hands-on History at Sherbrooke Village! Pre-register for these unique experiences by calling 1-888-743-7845
Sherbrooke Show & Shine | Sherbrooke Village (novascotia.ca)
Saturday, September 10 and Sunday, September 11
SHERBROOKE SHOW & SHINE ANTIQUE & CLASSIC CAR SHOW – A gathering of antique, custom, and classic vehicles. Event will feature a road rally, music, and concert at the performance centre. Free registration and awards for registered automobiles. https://sherbrookevillage.novascotia.ca/what-see-do/sherbrooke-show-shine
Saturday, September 10
Our Annual Sherbrooke Show & Shine Car Show Concert, 7 pm at the Performance Centre. Featuring "Saltwater Joy"  are puttin' the fiddle, cor'deen and all 'er strings to Canadian Atlantic Coast Music favourites, along with a mainstay of well-known Irish, Bluegrass and Grand Ole Opry Country classics.   Free Admission to Show & Shine car show participants.
Bring your own chair. Admission by donation, proceeds to St. Mary's Food Bank.