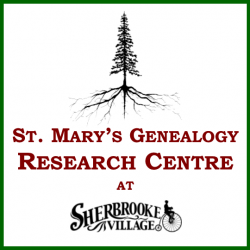 The St. Mary's Genealogy Research Centre at Sherbrooke Village was founded in 2011 by a group of community-based genealogists and local historians in response to the need to provide a place to collect, preserve, and share historic records and resources of the St. Mary's municipal area (the western portion of Guysborough County). It is housed in the Village Treasures & Gifts Shop just inside the gates of Historic Sherbrooke Village. Included in its holdings are genealogy and archival materials gathered and donated to Sherbrooke Village over many years.
For more information on the St. Mary's Genealogy Research Centre at Sherbrooke Village please visit https://memoryns.ca/sherbrooke-village or email SMGResearchCentre@gmail.com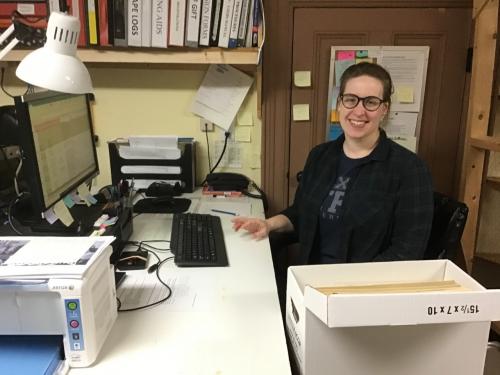 During the autumn of 2020, the St. Mary's Genealogy Research Centre at Sherbrooke Village was fortunate to have Dr. Meghann Jack at work arranging, describing, and rehousing some backlogged archival records. This was made possible through a Public Archival Development Project (PADP) grant through the NS Archives and NS Communities, Culture and Heritage. Meghann has a keen interest in the Municipality of the District of St. Mary's, her PhD dissertation being on the history of barns in the area. Her research experience was a great asset in this project and she helped to make more very interesting local historical archival documents accessible to researchers. Among the records were business ledgers, records and minute books of various organizations, poor relief records from the Depression era, and much, much more. She has uploaded descriptions and finding aids for the collections she processed to the Council of NS Archives website, MemoryNS. They can be viewed at memoryns.ca/sherbrooke-village
The Research Centre is a volunteer-run organization for which Historic Sherbrooke Village generously supplies a location above the Village Treasures Gift Shop within the restoration. The Research Centre is an institutional member of the Council of NS Archives. Due to COVID restrictions, the Research Centre is operating on an appointment only basis. Contact information can be found via the above link.