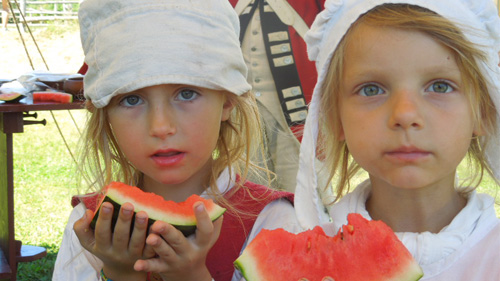 Note: These events are subject to change.
With These Two Hands
NEW PROGRAM for 2017: "STEP INTO 1867" DRESS, DEBATE and CELEBRATE THE BIRTH OF CANADA -  Happening daily from 10:30 am to 3 pm, July 1 to September 4. Daily offers will include:
Village Witness – Witness the village with costumed interpreters and visitors living in the 1860's.
Village Explorer – Get dressed and explore the 1860's in costume.
Village Discoverer – Get dressed in character, participate in a vignette, do a stewardship project (give back), and take home a Sherbrooke Village keepsake. Discover life in the 1860's, and come again to become another character.
Treasure Hunts
Search for the museum's hidden history treasures as you tour the site. The Sherbrooke Village Treasure Hunts add an element of interaction to a tour of the museum for children and families alike. Those who successfully complete their quest will be rewarded with a bounty from the treasure chest! Register at the Information Centre to take part and stop at the Company Store on the way out to pick up your bounty.
Courthouse Concert Series
Concerts are held Thursday evenings from June 29 to August 17 and on Friday evenings, from August 25 to September 15, offering music from a variety of genres. All concerts start at 7:00 pm, tickets $10 at the door.