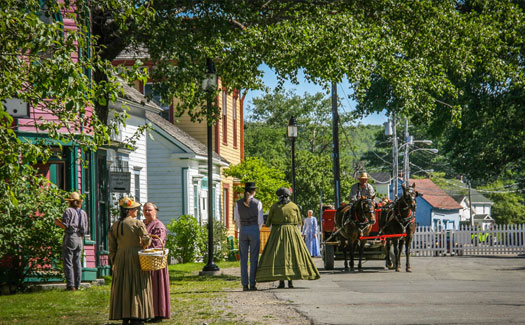 Sherbrooke Village will open for the 2015 season on June 1st
Call us toll free at 1-888-743-7845 to register for any of the 2015 learning camps or programs including the Sherbrooke Village Road to Stanfest Songwriters' Camp, Hands On History, Five Hour Forge Blacksmith for a Day, Murder Mystery Weekend, Time Travellers's Reunion Sherbrooke Village Rally That Gives or Sherbrooke Village Photography Camp.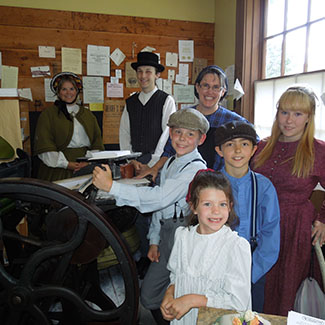 This summer get your hands on history at Sherbrooke Village!
Open June 1 to September 26, 2015 
At Sherbrooke Village, every day is a trip back in time as Nova Scotia's 19th century heritage is brought to life for visitors of all ages by traditional trades people such as blacksmiths, potters, weavers, wood turners,  and printers and crafters including quilters, rug hookers and candle makers.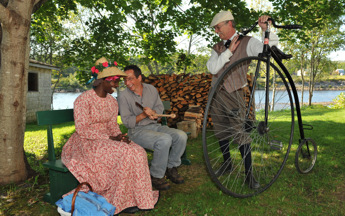 About Sherbrooke Village
Located along the shores of the beautiful St. Mary's River, Sherbrooke Village depicts a typical Nova Scotian village from 1860 to pre-WW1. With approximately 80 buildings, over 25 of those open to the public, it is the largest Nova Scotia Museum site.   Visit the woodturner shop, blacksmith, pottery shop, ambrotype photography studio and printery. 
Be social
Toll Free Number 1-888-743-7845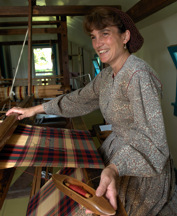 Hands on History
Hands On History invites people young and old to participate in Village life by offering a "Hands On", interactive, educational and fun experience.
More information on:
School group tours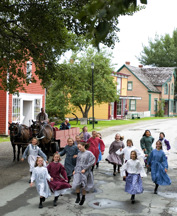 Hours & Admission
Sherbrooke Village is Open:
June 1st – September 26
9:30 am - 5:00 pm
7 Days a Week
Admission Rates For 2015
Adult - $12.75
Child - $4.75 Children under 6 FREE
Family - $32
Senior - $9.75
Adult Season Pass - $18.75
Family Season Pass - $39
Group Rate - $10 per/person
Note: All prices include applicable sales tax and are in Canadian Funds