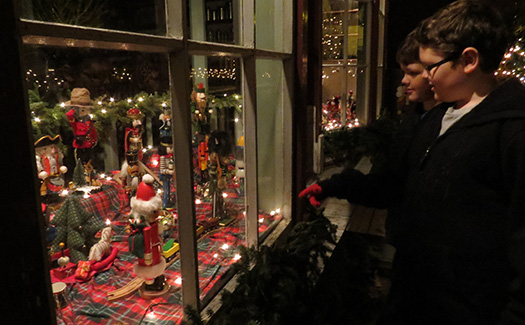 November 22 to 24 and November 29 to December 1, 2013 
Make plans now to attend this year's Sherbrooke Village Old Fashioned Christmas. The event will feature opening night tree lighting, Christmas carols, Kidd Brothers performance, refreshments, a visit from Santa and fireworks. On Saturday & Sunday activities will include breakfast, craft sales and workshops, Victorian Teas, ice & wood carving, family entertainment, children's activities, a Christmas dinner with Chef Alain Bosse, a production of "It's A Wonderful Life" radio play, a Christmas variety concert and more. There's something for everyone this Holiday Season so get your Hands on History while getting into the Holiday Spirit at Sherbrooke Village. Download the full schedule of events (1 MB PDF)

Our Past is Your Adventure!
An adventure like no other, Sherbrooke Village lets you explore and experience the Nova Scotia of days gone by! Tour over 25 unique buildings and encounter a variety of heritage skills demonstrations along the way. Enjoy the sounds of our weekly concert series within the fantastic acoustics of our period courthouse. Enrol in one of our hands on camps or workshops including song writing, fiddling, painting, photography, and arts and crafts.
Experience a place where time stands still... visit Sherbrooke Village! 

About Sherbrooke Village
Located along the shores of the beautiful St. Mary's River, Sherbrooke Village depicts a typical Nova Scotian village from 1860 to pre-WW1. With approximately 80 buildings, over 25 of those open to the public, it is the largest Nova Scotia Museum site.   Visit the woodturner shop, blacksmith, pottery shop, ambrotype photography studio and printery. 
Be social

Learn
Hands on History
Hands On History invites people young and old to participate in Village life by offering a "Hands On", interactive, educational and fun experience.
More information on:
School group tours
Overnight school programs