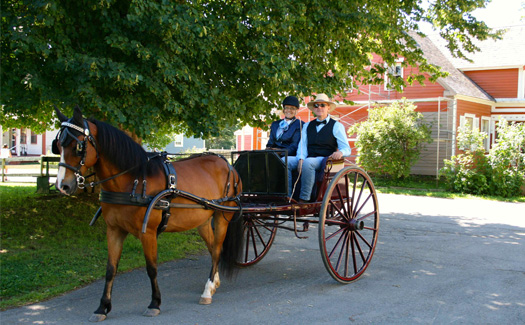 A Sporting Day of Horse & Carriage Driving 
Saturday, August 9, 10 am - 3 pm. Presented by The Nova Scotia Driving Society in Conjunction with Historic Sherbrooke Village. The Sporting Day focuses on traditional horse and carriage driving and includes three phases: a Turnout Inspection, a Country Drive and the Cones Course. The Country Drive will commence at Sherbrooke Village and continue along the St. Mary's River on the Sonora Road, Carriages will return to Sherbrooke Village for the Cones Course & Turnout Inspection. 
Time Traveler's Reunion
Saturday, July 26 to Sunday, July 27
What a perfectly authentic setting for a Steampunk Social, featuring a garden party, fashion show, workshops, and entertainment. Take a tour of the working blacksmith, wood turner, pottery, printer, and visit the ambrotype studio for period photography. Costuming encouraged but not required... it's YOUR adventure!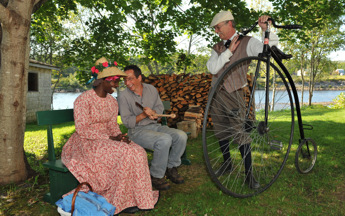 About Sherbrooke Village
Located along the shores of the beautiful St. Mary's River, Sherbrooke Village depicts a typical Nova Scotian village from 1860 to pre-WW1. With approximately 80 buildings, over 25 of those open to the public, it is the largest Nova Scotia Museum site.   Visit the woodturner shop, blacksmith, pottery shop, ambrotype photography studio and printery. 
Be social
Toll Free Number 1-888-743-7845

Learn
Hands on History
Hands On History invites people young and old to participate in Village life by offering a "Hands On", interactive, educational and fun experience.
More information on:
School group tours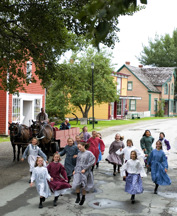 Hours & Admission
Sherbrooke Village is open:
June 1st - October 4th
9:30 am - 5:00 pm
7 Days a Week
Admission for 2014
Adult - $11.75
Child - $4.75 Children under 6 FREE
Family - $32
Senior - $9.75
Adult Season Pass - $18.75
Family Season Pass - $39
Group Rate - $10 per/person
Note: All prices include applicable sales tax and are in Canadian Funds