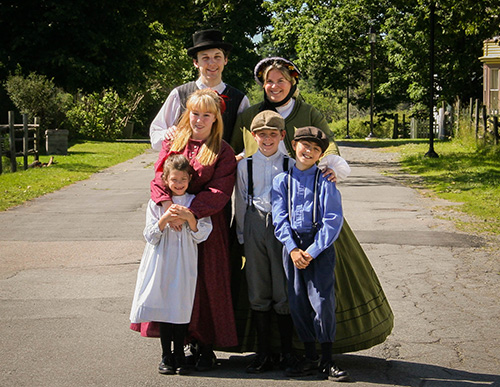 Dress - Debate & Celebrate
From July 2 to September 22, 2018
The Victorian Era is Alive & Well at Sherbrooke Village!
Every day is a trip back in time as Nova Scotia's 19th century heritage is brought to life in 25 original buildings including the blacksmith, woodturner, potter, weaver and print shops.
Daily Animations Include: Theatre in the Street,
children's games and petting zoo.
You Choose Your Level of Participation!
Explorer Experience
Price: Adult $29.95; Child $19.95; Senior $24.95; Family $69.95
Dress in period costume, take part in a treasure hunt, explore our history.
Discoverer Experience
Price: Adult $69.96; Child $34.95; Senior: $59.95; Family $189.95
Dress in period costume and become
part of the "Sherbrooke Village Story", by being
immersed in the life of a miner, socialite, blacksmith apprentice, maid, or another of a variety of characters. Join in on role-specific hands-on activities, take part in a historical vignette, try the dialect of the day, enjoy a Victoria Tea, participate in a stewardship project-leave your mark and take a little piece of the Village with you when you leave.
Who will you become? Who will you be next time? It's up to you to decide.
Both the Explorer and Discoverer Experiences include admission to Sherbrooke Village.
For more information call 1-888-743-7845 or svillage@novascotia.ca