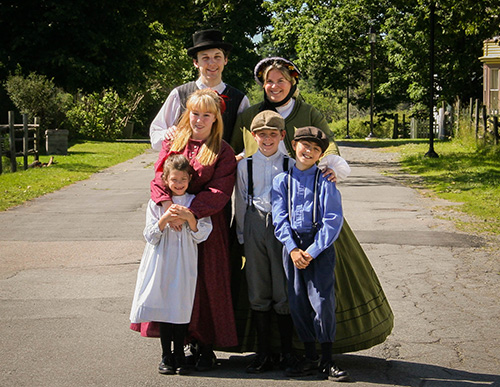 Experience the life of a villager in the 1860s by dressing in period costume and stepping into the shoes of a blacksmith or woodturner apprentice, member of the gentry class, or farmer to see first-hand the important role they played in Sherbrooke Village. 
Get immersed in your villager role by following their social etiquettes, trying the hands-on activities they took part in, and learning first-hand what their life was like. The activities you participate in throughout the day will help you both create a memento that you take home with you, and leave your mark on the village. 
You're always the right age to play dress-up at Sherbrooke Village! Who will you become? Who will you be next time? For added fun, if you're travelling with friends or family, try mixing up class roles to see how different your lives would have been.
Choose your level of participation
Explorer Experience
Price: Adult $29.95; Child $19.95; Senior $24.95; Family $69.95
Time: Available throughout the day
Dress in heritage costume while exploring the village
Discoverer Experience
Price: Adult $69.96; Child $34.95; Senior: $59.95; Family $189.95
Time: 9:30am – 4:30pm
Dress in heritage costume and receive details on the villager role
Take part in role-specific hands-on activities
Participate in a historical vignette/depiction, interpreting a day in the village
Help make a craft to take home at end of day
Participate in a stewardship project that leaves your mark on the village
Both the Explorer and Discoverer Experiences include admission to Sherbrooke Village.
For more information call 1-888-743-7845 or svillage@novascotia.ca