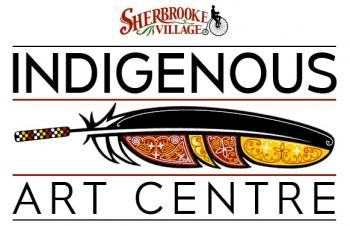 In 2017 Sherbrooke Village Restoration Commission board member,  commissioner Marlis Lade initiated the first Indigenous art exhibit at the Village featuring Alan Syliboy, well known Mi'kmaq artist along with work from Indigenous artists Loretta Gould, Lorne Julian, Jay Bell Redbird, Amanda Julian, Chelsea Brook and Darren Julian. The exhibit was primarily sponsored by "Friends United".
In 2019 the Sherbrooke Village Exhibit Center was officially named the "Indigenous Art Centre". The Centre's mandate is to honour and showcase Indigenous artists who express their themes, connections, families, spirituality, struggles and strengths through art. We will offer the artists a space to familiarize our visitors with Indigenous Art and encourage cultural awareness of the oldest surviving culture in Canada. We continue to reach out to new artists.
In 2020 a number of special programs were offered, including story time, crafts and games. An enthusiastic group of youngsters from local communities took part in a reading of stories by well known artist Alan Syliboy and enjoyed playing traditional children games.
On the weekend of September 5th and 6th a drum making workshop was held at the Indigenous Art Centre with instruction by Mi'kmaq artists Carolyn & Neenie Landry.
The dedicated and skilled employees at Sherbrooke Village make every visit an unforgettable cultural experience.
For the upcoming 2021 season there are a number of new activities planned. Programs will include a variety of workshops, such as drum making, wood carving as well as others to be announced. Be sure to keep up to date with our Sherbrooke Village Facebook page. We would love to welcome you to share some of our experiences.
Indigenous Art Centre at Sherbrooke Village Mandate
Indigenous artists become ambassadors of Indigenous art and culture and often role models for the children and families of their communities.
At the Indigenous Art Centre at Sherbrooke Village, we strive to honor talented Indigenous artists who are expressing themes: CONNECTION, FAMILY, SPIRITUALITY, STRUGGLE and STRENGTH and convey their knowledge, beliefs, history, and their teaching through their art.
It is the mandate of the Sherbrooke Village Indigenous Art Centre to highlight the importance of Indigenous art as one of our contributions to Reconciliation. We will improve the cultural awareness of the original peoples of this land and understand their culture, their struggles in society, their resilience and pride in their way of life and heritage.
We can learn so much from the Indigenous peoples through their art. Let's celebrate this exhibition!
At Sherbrooke Village we acknowledge that we live and work on the traditional and unceded territories of the Mi'Kmaq people and will strive to honour the relationship defined in the Peace and Friendship Treaties. We are all treaty people.