Sherbrooke Village now has a Cooperative Art Gallery at the "Cook House". The gallery members are, Wilda Kaiser, Sherrie White and Thelma Morris-Fogarty Ann Stone and Joy Wier. You will find for sale original oils, watercolours, acrylics, and sculpture, as well as prints and cards.  The 'Community Wall'  can be rented by artists for two week periods.  The gallery is open seasonally and for the Old Fashioned Christmas Activities.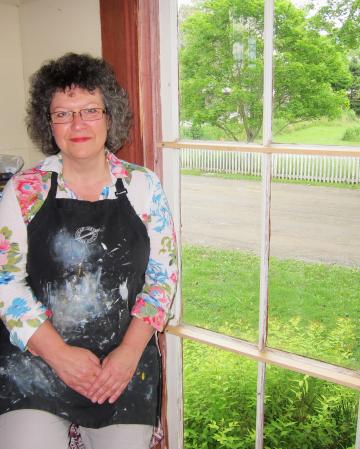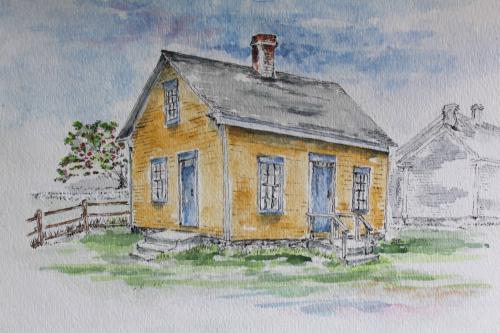 Indigenous Art Exhibit
Loretta Gould will be adding her artwork to that of Halina Stopyra and Jay Bell Redbird's "Gatherings in Nature Circle" collection. Exhibit will open on June 8 to October 14.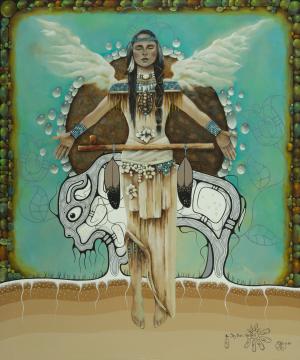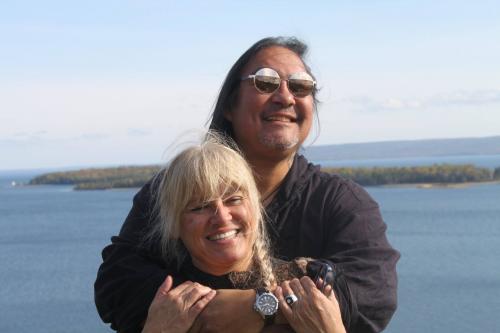 ​
Loretta Gould
Mi'kmaq Artist Loretta Gould From the East Coast
Her art is Spiritual and its said it's a dream to see bright, beautiful colors. Her first paintings sold in Finland and Germany. So, Please enjoy looking at her Pieces. Spend Her whole life creating with Fabric, Photos, and Acrylics. She is Self-Taught and has been creating and exhibiting her work ever since. Loretta's dream is to share her art around the world. It is a way to get her spiritual feelings on canvas.
She was Born and raised in Cape Breton, Raised in a reservation by her Parents. The Waycobah First Nation is located in Nova Scotia.
She currently resides in Cape Breton with her husband Elliot Gould and All their Children Dakota Jay(1994), Shianne Snow(1996), Savannah Sipu(1998), Phoenix Lee(2000), Ivy Blue(2004), and Montanna Sky(2015)
She is Currently working on a book for all the stories that go with each Painting. And 2 children books to learn our native tongue.
She recently Open an Online Clothing Store with her art on Fabric. She has Yoga Leggings for Adults, Youth, and Children. She also carries Tank tops, Sport tanks, Bags, working on Greeting Cards and has all her Prints listed online."
Halina Stopyra
Since a young age, Halina has been drawn toward the healing arts.  This natural inclination has led her into a career as a physical therapist and later in life, as an artist.
"My intention is to remind the viewer of how intricately connected we are with nature, each other and the universe. As a result, we realise how strong, resilient and capable of healing we are."
She has been inspired and influenced by mythology, folk tales and stories, finding familiar archetypes all through the ages and across the planet.  "We are all co-creators and magic makers, and by the very act of creating and expressing our spirit we are changing the world and adding to its expansion".
Face and the human form is often the focal point of her composition.  "Faces are capable of inspiring empathy and self-reflexion, from within each of us a seemingly invisible but vibrant world thrives."
The intimate self is expansive, and as water flows in every direction, Halina's favourite medium is, therefore, water colour.
As a founding artist of Redbird Gallery, Halina splits her time between Toronto and Cape Breton where together with her life partner and fellow artist Jay Bell Redbird, blissfully create art and contribute to the well-being of their communities and environment.
Halina's statement is:  "One Love ".
Jay Bell Redbird
Jay Bell Redbird was born Aug. 31, 1966, in Ottawa, Ontario. He is the son of proud parents Elaine Bell (late) and Duke Redbird. Jay is a member of Wikwemikong, Unceded Indian Reserve and currently lives both in Toronto and Cape Breton.
As a founding artist of Redbird Gallery, Jay is a self-taught artist, who grew up surrounded and influenced by world renowned artists like Jackson Bready, Norval Morrisseau, his uncle Leland Bell and his father, painter, poet and writer Duke Redbird.
"I paint from my heart and soul, viewing Aboriginal people through their life ways as they once lived and as they strive to continue to live as loving, caring and peaceful people. The teaching and stories I have learned flow to the canvas expressing ideas through my detailed, woodland style of art, a style that I connected with as part of my history passed down from generation to generation. I paint legends and dreams, bringing to life the animal spirit and the spirit of all creation. My lines do not tell the story of prejudice, they follow the Red Road, Mino Bimaadiziwin as I do following the teaching of the Three Fires Midewiwin Society".
As a teenager, Norval Morrisseau talked to Jay about the colours and their meaning and how they are expressed in Aboriginal language, history and culture. His uncle Leland showed him techniques and shared traditional teachings and stories. His father Duke Redbird encouraged Jay to put his art out there to share the beauty of Aboriginal culture.
Following these formative years, Jay continues to learn and find his own unique voice through his paintings which are vibrant in colour, stories and meaning.
Jay's Statement: "To share my work with all Nations and promote lasting peace and love".