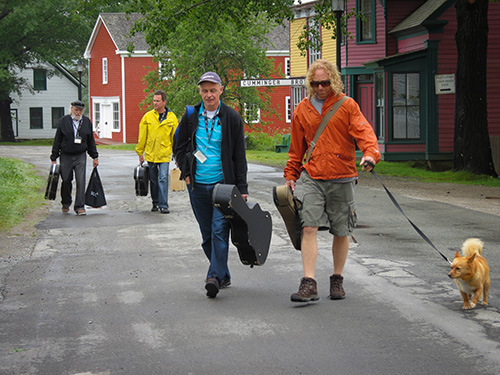 Join us for our 11th annual Sherbrooke Village Road to Stanfest Songwriters' Camp, July 23 to 26, 2018. Improve your abilities in the art, technique & craft of songwriting while learning from the best! Come to the shores of the beautiful St. Mary's River for a songwriting experience. There will be songwriters' circles and evening jams. 
Date Change
Stan Rogers Folk Festival will be changing their dates in 2018 to the last full weekend of July, the 26th to 29th. We are so proud of Troy, Wanda, Bill and company for sticking with the event. They've had a rough few years due to weather conditions but they are not giving up!  It's a huge undertaking to make changes of this magnitude but they are going for it! See more here: http://www.stanfest.com/
We at Sherbrooke Village, would not consider any other direction but to continue our partnership with the event organizers. Therefore, the Sherbrooke Village Road to Stanfest Songwriters' Camp will be held from July 23rd to 26th in 2018. We hope this will work for all of our regular and future participants.
Get a PRINTABLE REGISTRATION FORM HERE  (PDF 201 KB) or call toll-free 1-888-743-7845
Instructors
Laura Smith - laurasmithmusic.com or Facebook
Ian Janes - ianjanes.com or facebook.com/ianjanesmusic/
John Campbelljohn - campbelljohn.ca or facebook.com/john.campbelljohn.7 
Steven McClintock - en.wikipedia.org/wiki/Steven_McClintock  or  37records.com
Grande Finale Concert
On Thursday July 26 at 7 pm we will present a Grande Finale Concert at St. James Presbyterian Church within Sherbrooke Village, featuring the great music and talent of our instructors and pupils. Tickets for this evening's concert will be available for $10 at the door, everyone is welcome.
Stay an extra night FREE!  Stay over on Thursday night to make a fresh start on to Canso for the Stan Rogers Folk Festival on Friday Morning.
Perform at Stanfest! Ten participants (chosen by their instructors & peers) will have the opportunity to perform on the "Wish You Were in Sherbrooke Now" stage during the Stan Rogers Folk Festival.
Improve your abilities in the art, technique & craft of songwriting! Come to the shores of the beautiful St. Mary's River for a songwriting experience. There will be sing-a-longs, songwriters' circles and campfires by the river.
A group session is scheduled for each morning with smaller classes throughout the day and are structured to meet a range of skills and levels of experience. Songwriters at all levels will have the opportunity to study the various styles of our instructors.
A range of workshops will be offered which focus on the expertise of our instructors. There will be nightly songwriting circles held in the Courthouse.
What To Bring
The atmosphere at our school is casual. There is easy access to wooded walking trails, with river swimming on the property. The summer climate can vary from warm and sunny to chilly, cloudy and wet, so be prepared to layer with t-shirts, sweaters, shorts and pants. For all music workshops participants are required to bring their own instruments, paper, strings etc. A recording device would be most useful. Timetable, schedule and session information will be distributed when you arrive. Please bring your own musical instruments if you play.
Accommodation & Meals
On-site accommodations for participants will be in our Hands on History home which is a hostel type house by the river - accommodations are dorm style with shared rooms and bunk style beds, please be advised to bring your own sleeping bags and pillow. You may also bring air mattresses for additional comfort. Meals are included for Monday lunch to Thursday dinner. Breakfast is continental, we will supply food and you are on your own. We have great cooks here to prepare lunch and dinner, they've been feeding groups of school kids, teachers bus tours and visitors for years. The Village itself is a very special place which lends itself to some great musical and artistic expression.
How to Get Here
We are a 45-minute scenic drive south from Antigonish along highway #7 or 3 hours east of Halifax on highway #7. If you are coming from Stanfest we are 115 kl west, on Main Street in Sherbrooke just off the #7 highway. Find us on Google Maps.
Guidelines for Classes
When you register, please indicate on the registration form in the space provided your level, writing experience & ability. Songwriter's classes are geared to those who have had at least 1-2 yrs experience (novice) to advanced songwriters. Courses are directed toward serious students who wish to explore songwriting at the intermediate & advanced levels. Involvement in group opportunities is strongly suggested and will help you build on what you will learn at camp. Classes will be taught at a level which is appropriate to the participants involved and may include various levels.
NOVICE: You have 1-2 years' experience and knowledge of the basics.
INTERMEDIATE: You are proficient.
ADVANCED: You are an experienced musician who learns quickly. You are able to learn the advanced aspects of various styles.
Our intention is that all participants will have the opportunity to work with each instructor.  We cannot accommodate specific requests for instructors or instruction.