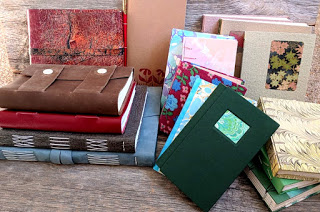 Date:  August 25, 26, 27 from 9 am – 4:00 pm daily
Cost:$120/person
Instructor: Rhonda Miller http://www.craft-design.ns.ca/instructor/rhonda-miller-ba-mlis
Rhonda has a class set of the basic tools, enough for 12 participants.
Participants provide their own: 
Self-healing cutting mat
A brick, wrapped in brown paper, to use as a weight or an old flatiron
Optional but not critical: metal rulers and a small carpenter's square (or triangle)
The projects are progressive and build on techniques that would allow participants to get comfortable with the processes and be able to
do them again afterwards, on their own.
Classes will begin each day at 9 am
Day 1: Introduction to basic tools, techniques, and materials. This session would include several projects such as pamphlet bindings,
chapbooks, and a hardcover pamphlet binding.
Day 2: Case binding: full-cloth, hardcover, bound in signatures
Day 3: DFA binding: quarter cloth hardcover binding of loose sheets. Participants could have the option of making a blank book or providing
their own document for this project (i.e., any document of about 50 pages or more, printed on a stack of standard letter-sized paper)."
For more info please contact: sherbrookevillagewritersguild@gmail.com