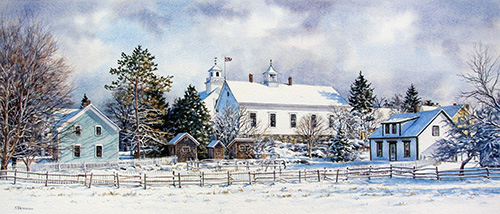 Camp Information
August 11 to 14
Call 1-888-745-7843 or visit sherbrookevillage.ca to register
Sherbrooke Village will be hosting a 4-day painting workshop this summer.  The village offers a wealth of material for painting and has inspired instructor, Susan Paterson for many years. Susan has a Bachelor of Fine Arts degree. She is proficient in both watercolour and oil painting and students can choose to work in either one.  She'll be demonstrating various techniques in both mediums and then students will work at their own pace on the subject of their choice. Susan will guide students in drawing, composition, perspective and colour mixing. Each evening the class will get together for a short critique, conversation, and socializing. There will be a showing of the artists' works on Sunday from 12:30 to 2. Visit Susan's website: www.susanpaterson.ca
Accommodation & Meals
On-site accommodations for participants will be in our Hands on History building which is a hostel type house by the river - accommodations are dorm style with shared rooms and bunk style beds, please be advised to bring your own sleeping bags and pillow. You may also bring air mattresses for additional comfort. Meals are included for Monday lunch to Thursday dinner if personal diets allow. Breakfast is continental, we will supply food and you are on your own. We have great cooks here to prepare lunch and dinner, they've been feeding groups of school kids, teachers bus tours and visitors for years. All meals are home style country fare. A diet that allows you to eat from the meals provided can be accommodated at our restaurant. All other special dietary requirements must be looked after by the individual who must bring their own supplies. Refrigerator & kitchen facilities available at lodging building to store & prep your own food.
The Village itself is a very special place which lends itself to some great artistic expression.
How to Get Here
We are a 45-minute scenic drive south from Antigonish along highway #7 or 3 hours east of Halifax on highway #7. If you are heading to Stanfest it is 115 kl east of us. Find it on Google Maps.
Orientation
Orientation will begin Monday at 10:00 am at the Sherbrooke Village Eliza Bent House (art building #C) for introductions and a short description about Historic Sherbrooke Village followed by your 1st session. Each morning thereafter, at 10:00 am, you will begin your classes in the Eliza Bent House. At 7:00 each evening we will have a meet and greet and a discussion regarding the days works. We will hold an exhibition of the week's works on Thursday, from 1:30 to 3:00 pm at the Bent House to round off your week.
Painting Supplies - Watercolour
Most of you will already have your preferred supplies and colour palettes, please don't feel you have to buy all my colours, but if you'd like to add one or two, or are just starting out, these are the instructor's suggestions:  (Susan finds that Ultramarine Blue and Burnt Sienna are very useful)
Watercolour paints:  Susan prefers Winsor and Newton Colours - She uses a very limited palette, and finds that too many colours are a distraction and you can never really know all of them.  (She never uses black or white in watercolour).
Ultramarine Blue
Cerulean Blue
Yellow Ochre
Burnt Sienna
Cadmium Lemon
Quinacridone Red
Paper:  You can use watercolour blocks, Arches are recommended.  Or you can purchase watercolour sheets, instructor likes Arches 140lb,rough.  This has to be stretched, and for that you need a board – You can use plywood, 3/8" thick, cut to the size you want, or Masonite can also be used for smaller paintings.   You will be painting on whatever size you feel comfortable with, but because of time it would be best to work 1/2 sheet (22" x 15") or smaller.  You will also need paper tape or masking tape to secure the paper to the board.
Brushes:  1" flat watercolour brush, # 3, # 5 & # 8 round watercolour brushes and # 0 or smaller for fine detail. You should not purchase the cheapest ones, try at least mid - price.  There's nothing nicer than a good quality pointed brush with a great spring.
Miscellaneous Items:  Sketch pad, pencils, kneaded eraser, pencil sharpener, large palette with lots of room for mixing colours, water container and tissue or paper towels.
Useful but not required: Fold-up chair, hat and sunscreen for outdoor work, easel and masking fluid. 
Painting Supplies - Oil
Most of you will already have your favorite supplies and colour palette but if not, here's Susan's suggestions:
Oil Paints: Susan prefers Winsor and Newton or Gamblin, but any good quality paint will do.  (Don't buy the cheapest!) 
French Ultramarine
Cerulean Blue
Yellow Ochre
Burnt Sienna
Quinacridone Red
Cadmium Lemon
Cadmium Red
Ivory Black
Titanium White
Supports: You can use Masonite boards, cut to size and primed with acrylic gesso, about four coats, letting it dry between coats, plus two or three coats on the back.  Susan would recommend sizes such as 9" x 12", 9" x 9", 6" x 12" and 6" x 8".  Bring about 4 - 5 boards of various sizes for the four days.  You can also use canvas or wooden panels that have been primed.
Brushes:  Instructor uses bristle and natural hair; round, flat and filbert.  Have a 1" or so bristle, (filbert or flat) and then several different sizes of soft hair and bristle in whatever style you choose.
Miscellaneous Items: Palette, easel, palette knife, odorless mineral spirits, linseed oil, containers for oms and linseed oil, rags or paper towel, sketchbook, pencil, sunscreen, hat.
What Else To Bring
The atmosphere at our school is casual. There is easy access to wooded trails and the beautiful St. Mary's River is on the camp property. The climate can vary from warm and sunny to chilly cloudy and wet so be prepared to layer with sweaters and pants. Timetable, schedule and session information will be distributed when you arrive.