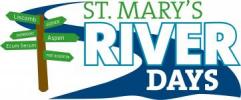 Friday, July 21st to Sunday, July 23rd, 2017
St. Mary's River Days – a weekend of celebrations along the St. Mary's River at Sherbrooke Village with opening night concert featuring "Shiretown" with their catchy melodic tapestry of folk-rock and adult contemporary at the Performance Centre, 7 pm. http://www.shiretownmusic.com/ followed by fireworks and star gazing; Saturday & Sunday there will be children's activities including: field games, ice cream making and crafts; cardboard boat regatta, guided nature and bird watching hike, and Sawmill & Goldmine Frolic with: woodsmen's competitions, gold panning and samples of our homemade baked beans and brown bread. There will be something for everyone so why not stop by!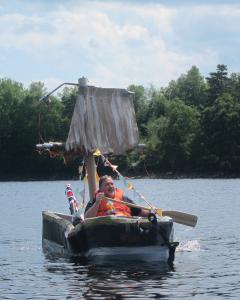 St. Mary's River Days Schedule
Schedule & locations subject to change.
Check Sherbrooke Village on Facebook or call 522-2400 for updates.
Friday, July 21, 2017
7:30pm Outdoor Concert at the Performance Centre featuring Shiretown. Bring a chair. Building #30
9:30pm Fireworks Display. Performance Centre Field
10pm Stargazing. Performance Centre Field
Saturday, July 22, 2017
9:30am Fun Run - Lumberjack or Fishermen, Dress theme. Meet in Sherbrooke Village Parking Lot. Adults $5, 6 to 12yrs old $2
10am - 3pm Family Treasure Hunt from Information Centre. Children to be accompanied by adult. Building #1
10 am – 3pm Children's Activities at Sherbrooke Village
Sunday, July 23, 2017
9:30-10:30am Birdwatching Hike. Meet at Sawmill to begin. Building #32
10am - 4pm Family Treasure Hunt from the Information Centre. Children to be accompanied by adult. Building #1
10am - 12pm Guided Canoe/Kayak Paddle. Meet at Sherbrooke Village Cove
11am – 12pm Family Activities with HOH. Building #5
11am -1pm Cultural/Heritage Alley in Brigley Field. Building#5
12pm Cardboard Boat Races at the Boat Launch. Prizes given for best 1867 design Commemorating the 150th year of Confederation, best sport, fastest across the river and back.
2pm 4pm Sawmill Frolic with woodsmen's competition including ax throw, spike drive, kettle boil and bucksaw cutting. Goldmine Frolic with gold panning. Building #34
2pm - 4pm Chainsaw Carving demo and sales with Brad Burns at the Sawmill. Building #32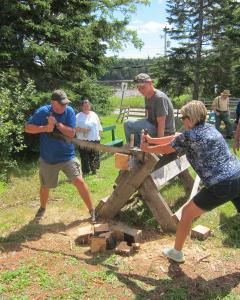 ​

​