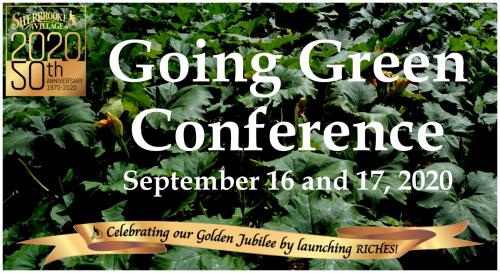 Sherbrooke Village is hosting an Environmental Conference – "GOING GREEN"
SAVE the DATES: September 16th and 17th, opening reception 7 pm on September 15th, 2020
Registration will begin on August 3rd, 2020 – Limited Seating
Join us as we learn more about the "Fight Against Climate Change" beginning with the basics "Reduce, Reuse, Recycle!"
Plant a tree with us!
Climate has changed, we must change too!
Conference Topics:
REGENERATIVE & SUSTAINABLE
Looking back in order to forge ahead - Using history to plan the future
What does GREEN mean to you?
G- generate less waste
R- recycle everything that cannot be reused
E- educate the community on eco-friendly options and choices
E- evaluate the environmental impact on actions
N- nourish discussions and activities that integrate environmental education into existing curriculum
What we'll learn:
•       recycling
•       composting
•       heat pumps
•       solar power
•       electric vehicles
•       food choices - gardens etc.
•       green practices for around your home, start NOW!
•       how to reduce energy consumption
•       what is a carbon footprint and how do you reduce it?
•       waste management
•       "climate change"
What does going green mean
Going green is defined as making more environmentally friendly decisions such as to "reduce, reuse and recycle."
Reasons for Going Green
a.      Endangered animals, deforestation, global warming and growing landfills are having a detrimental effect on planet earth, and some day may make the planet a very unpleasant place to live.
b.      Going green involves taking steps to minimize the damage humans are doing; to live an environmentally responsible life, and to make choices that will help preserve the earth and its non-renewable resources instead of destroying them.
c.      By eating natural, organic, locally produced foods, you save on carbon emissions, limit the use of dangerous pesticides and have a healthier meal.
d.      An example of going green is when you switch your light bulbs to compact fluorescent lamps and start recycling.
e.      Another example of going green is to recycle and buy recycled products.
What is meant by going green?
"Going green" means to pursue knowledge and practices that can lead to more environmentally friendly and ecologically responsible decisions and lifestyles, which can help protect the environment and sustain its natural resources for current and future generations."